Racing Hero Cards | Autograph Cards
---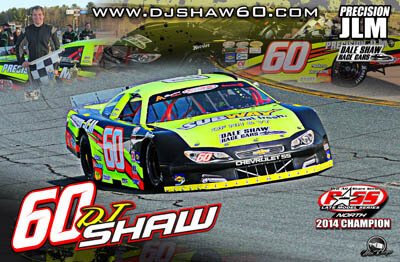 Racing Hero Cards are one of the most important promotional pieces for any race team and driver. They are a great tool to use when doing marketing events, trade shows and autograph sessions at the local tracks. Whether you are a professional NASCAR race team, or a weekend warrior running Pro Stocks, Modifieds, Four Cylinders, Legends Cars, Go-Karts and everything else in between. Having hero cards is essential to a professional look and ensure your sponsors get maximum exposure.
Our racing hero cards are professionally designed to stand out. Each one is designed custom from the start, no templates here! They are printed front and back with thick card stock paper. We can ship our cards anywhere in the USA.
All we need from our customers is photos they would like to use on the card, a basic biography, sponsor information or anything else they would like to include on the car. From there, we will go to work and create a card that you will be proud to hand out.
We can design cards for any type of racing discipline. Be it asphalt racing, dirt racing, drag racing, boat racing, airplane racing, you name it. We can design it. Use the easy ordering form below to get started. Or you can call or e-mail us today to get started on your new design!
Hero Card Pricing

8.5x5.5
8.5x11
100
$90
100
$150
250
$150
200
$240
500
$230
500
$350
1,000
$320
1,000
$460
Shipping rates may apply
Online Order Form
Using our easy to use online order form, you can now order your hero cards directly on our website and see them within two weeks. Click the button below to get started.
Racing Hero Cards Online Order Form